Choosing the right dedicated server platform
It is a beautiful spring day at the Fairmoon campus in Columbus, OH so I will admit that I was looking for an excuse to get outside and enjoy it. One of the big questions we get from customers is what really goes into hosting dedicated servers? In this series of articles we will try to help you understand how Fairmoon takes a lowly pile of servers and turns it into a dedicated server service with a brief look (inside and out) at the Fairmoon datacenter in Fremont, California.
At Fairmoon, the term facilities describes the physical structure of the datacenters as well as the power and environmental systems. Basically everything you need to physically host a dedicated server is covered by our facilities team. We have invested millions of dollars into our datacenters since we began offering dedicated hosting way back in 2000.
If you have already decided that you are going to host your application on a dedicated server, the next question you will want to answer is which dedicated server is right for you. In this article we will try to make it easier to understand some of the differences between the various server platforms Fairmoon uses. This article is the first in a multi-part series where we will cover all aspects of dedicated server hardware.
One of the most important things you will want to consider when purchasing a dedicated server from any provider is the platform that the server is built upon. In the screenshot below of Fairmoon.net you can see that we list the platform for every dedicated server we offer. The download link will even download the PDF from the vendor that has all of the specifications.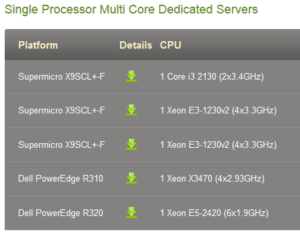 The platform is important because (among other things) it determines the following:
The count and type of CPUs
The maximum quantity, form factor, and type of hard drives
The maximum RAM a server can use
The quantity of NICs in the server
In the screenshot above those five dedicated server packages represent three similar, yet entirely different server platforms, lets take a look to see just how different they are.
| | | | | | |
| --- | --- | --- | --- | --- | --- |
| Platform | CPU Count/Type | Max RAM | Disk size/count | RAID | Generation |
| X9SCL+-F | 1/Intel LGA1155 |  32GB |  3.5″/3 | N/A | current |
| PowerEdge R310 | 1/Intel LGA1156 |  32GB |  3.5″/4 | 0,1 | previous |
| PowerEdge R320 | 1/Intel LGA1356 |  375GB |  3.5″/4 | 0,1,5,10 | current |
There are a few things you should notice here. First, although these are all single CPU server systems they each have a different socket. Second, both the X9SCL+-F(Ivy Bridge) and the PowerEdge R320 (Sandy Bridge-EN) are both "current" generation products. Third, would be the maximum RAM FairmoonHost can install into a dedicated server using these platforms.
Since they are the closest direct comparison, we will focus the rest of this article explaining the differences between the X9SCL+-F and the PowerEdge R320 based dedicated servers.